What does 'SIM not provisioned for voice' mean and how to fix it in 2023?
Today I'm going to show you how to fix the SIM not provisioned for voice error on your Android or iPhone.
In this guide, you'll learn:
But before I share it with you, I have to admit something,
The first time when I saw this annoying error message on my phone, I was so angry!

The worst part?
It happened moments before I needed to join an important conf-call with a client. Hoping it would resolve the issue quickly, I took a deep breath and restarted the phone (Spoiler alert: reboot on its own did not help!).
Sidenote: We are all so reliant on modern technology that even some sudden phone error or sim card message can make you feel helpless.
Let's go back to my story about the "Phone not provisioned for voice" error.
After the initial shock and frustration, I called my friend Rob who is a Telco veteran (worked as an IT engineer for two major national mobile networks) and asked him:
Why does my phone say SIM not provisioned for Voice?
He briefly explained what's causing the error message and also told me how to fix it on any phone. Believe it or not, in most cases, you can quickly solve the problem by yourself. 
In fact, these are the exact techniques that Rob suggested me to try in order to get rid of the SIM card error.
But before I share it with you,
Let's take a look at what does the message SIM not provisioned for voice mean.
So let's dive right in.
What does SIM not provisioned for Voice mean?
Provisioning is actually an old term from the Telco (telecommunication) industry.
SIM card (subscriber identity module) is used to identify the subscriber account. So, carrier is provisioning the service to the end user (subscriber) by provisioning service to the subscriber's SIM card.
See also: What is 'SIM not provisioned mm2' error and how to fix it?
Since the SIM card represents the account, SIM not provisioned for voice meaning is that the voice phone line is no longer attached to the SIM card.
At this point you cannot receive or make any voice calls, except for emergency calls (911 in the US, 112 in Europe).
This can happen in the following cases:
If you have ported the number from another provider. In such case, you need to wait for a provider system refresh to occur, sometimes up to 24 hours;
Due to the ongoing maintenance, network congestion, or patching and updating, the service provider's authorization server can be temporary unavailable (not responding), or responding to authorization requests with huge delay;
If the service provider rolled back some changes and updated the status of your SIM by mistake - they accidentally detached the voice phone line from your account.
Your SIM card isn't picked up by the cellphone, or it is, but the cellphone is unable to establish communication with the operator's SIM provisioning server.
Provisioning works the same way on any cellular carrier, on any device. In other words, SIM not provisioned for voice can affect any Samsung, iPhone or Android phone.
As you can see, all mobile devices (even dual Sim phone) can experience this problem.
See also: Metro PCS SIM card not working in unlocked iPhone?
Now that we have clarified what is sim not provisioned for voice, let's see what we can do to fix it.
I'll cover that in a minute.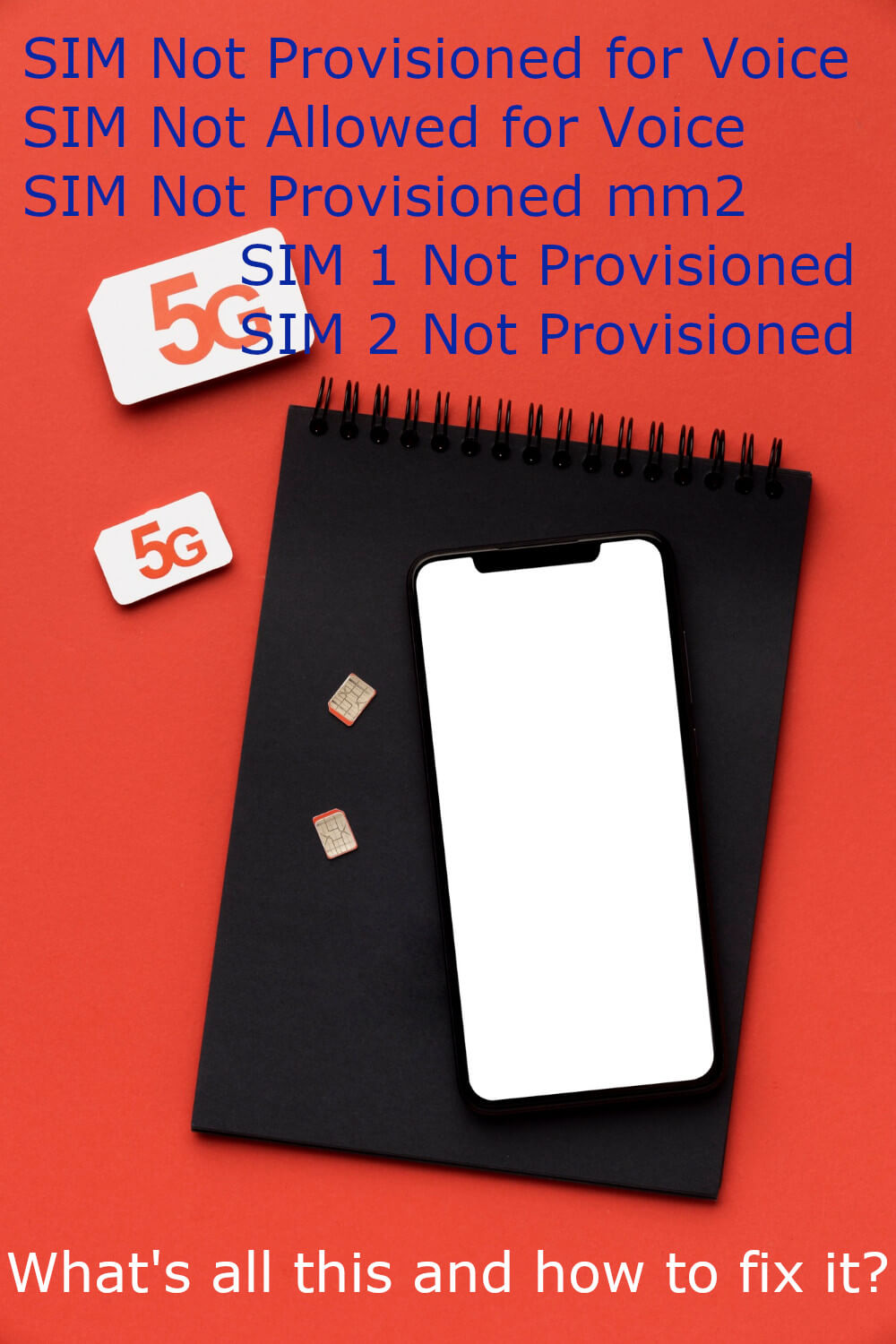 How to fix SIM not provisioned for voice?
So how do you fix SIM Card not provisioned for voice error?
By employing the quick fix steps I'm about to share with you in this guide.
First remove the battery, remove the card and try the Sim in another phone. This step is necessary to ensure that sim card card is functional.
Then return in back into your phone and follow the next tactics carefully.
There are only two ways how to fix the "SIM Not Provisioned for Voice":
Update Carrier services and SIM toolkit;
Contact your Mobile provider support.
I will explain how I managed to fix the SIM card not provisioned error on Android mobile phone and iPhone, without contacting the customer support.
Let's dive right in.
Solution no. 1 How to Fix it: Update carrier services and SIM toolkit clear data
If you can't receive or make calls due to the "SIM not provisioned for voice" error, try the troubleshooting steps explained below to fix the problem.
To make sure all your phone services and apps in charge for SIM registration are running smoothly, proceed with the steps below:
Search for carrier services in Google Play Store app, open the carrier services app and tap Update;
Go to Android Phone Settings, tap Apps and search for SIM toolkit app. Tap Force stop, then OK. Tap Storage, then tap Clear data and Clear cache;
This step is for Google Fi users only, skip to the next step if you're not using Google Fi services. Open the Google Play Store app, tap Menu and then My Apps & games. Tap Update if there's an update available next to Google Fi app.
Go to Android Phone Settings, tap General management, tap Reset, tap Reset network settings , choose SIM number (only for dual-SIM devices), tap Reset settings. NOTE: You might loose all previously saved WiFi passwords and Bluetooth pairings;
Finally, restart your phone by following these steps: Press and hold the Power button until the menu pops up, tap Restart.
After all the steps are done, ask a friend to call you or try making a call to check if the issue is fixed. 
If the phone stil says SIM not provisioned for voice, move onto the next solution.
Solution no. 2 How to Fix it: Contact the Carrier or Network Provider Support
Sometimes all the steps mentioned above cannot solve the 'SIM not provisioned for voice' error. The only solution left in that case is to contact the mobile provider's customer support.
Have in mind that your mobile providers are the only one that can deactivate or activate the SIM card using the provisioning server. So this is not something you can do on your own and without their assistance.
When you call, tell the customer service representative that you are getting a "SIM not provisioned for voice" error on the phone and your phone number.
Support agent might also ask you about exact phone model as well, so do have it ready.
Here are some contact numbers and websites of major CA, UK and US carriers to get you started:
How to fix "No voice service temporarily turned off by carrier"?
This error message is resulted by a temporary voice service outage. The fix depends on the following: Does your mobile data/voice calls work when you get this error?
If your voice or mobile data does not work, than all you can do is wait for the service to be restored. It might help to restart your cell phone, which will force phone to retry and establishing the voice service again.
If your voice calls and mobile data work fine, you can ignore this message. However, if you get this message very often it can be annoying, so you might consider disabling such notifications: Settings > Apps and notifications > See all apps > Tap the 3 dots menu upper right corner > Tap show system > Tap phone services > Tap notifications > Turn off alerts.
See also: Can water damage the SIM card?
Let me know what worked for you?
If you have successfully fixed the SIM not provisioned error by following the steps explained in this guide, please share and like this post so that other people can easily find it to solve their SIM errors.