The Best Car Hidden Compartment Kits (Review) in 2023
Most people keep their cellphones, wallets and keys in car door bins, cup holders or glove box.
However, if you need a hiding spot that both secure and invisible to someone looking through the windows, you'll probably need a specialized, car hidden compartment kit.
A hidden car safe is especially important if you want to stash a golden ring, diamond necklace, survival kit or some money for the rainy days.
Disclosure: Some of the links below are affiliate links. This means that, at zero cost to you, freeonplate.com will earn an affiliate commission if you click through the link and finalize a purchase.
I was curious what kind of kits are available on the market, and how good they are.
So I tried to review some of them and summarize the info here.
Here is what I found.
But before I share it with you,
Every vehicle is different, but every vehicle has hundreds of holes, and compartments that might be useful for mounting a car stash kit. I will explain everything in a minute.
So let's dive right in.
#1 Best Overall: HitchSafe HS7000 Key Vault - Check latest price
Table of Contents
TYGER Under Seat Cargo Box
This kit can use all the space available under the seat and turn it into a hidden compartment in just a couple of minutes. Installation is done without any drilling.

It weighs cca 18 pounds and measures 54 by 15 inches. This is enough to store quite large stuff there. in addition, you'll get a built-in grid and removable partitions.
There is one drawback though, it's only suitable for a limited range of cars, including some versions of the Chevrolet Silverado.
The cost depends on the model, usually around $190. You can find supported models and check the latest price here.
Black Sheep storage space in the Jeep Gladiator
Here's an interesting hidden compartment kit for the Jeep Gladiator.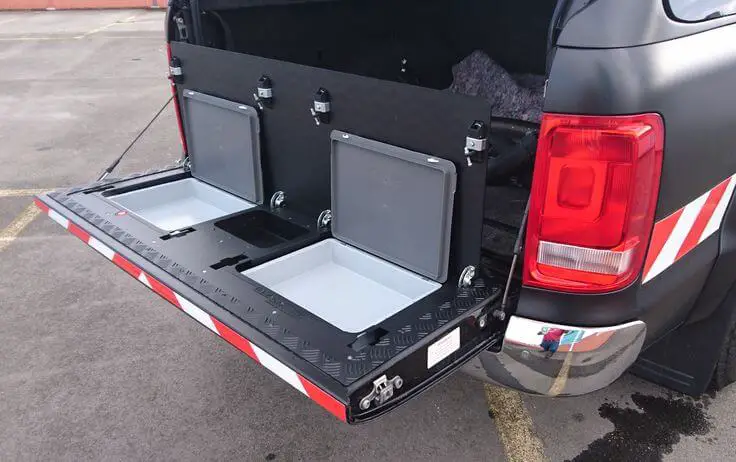 The tailgate has been given new functionality with an integrated storage section for all sorts of stuff. There are three compartments, one measuring fifteen by five by three
inches, and two measuring twelve by nine by three inches.
All compartments are dust proof and waterproof securely locked with four latches they're made of aluminium and stainless steel. After installing the units the tailgate
remains fully functional and doesn't lose its lifting capacity.
The total weight of the conversion kit is about 26 pounds and the price is $1360
ARmA15
This kit is known as armor 15 and will help turn your car seat into a weapon stash - a secret compartment in car for gun.
Quite good kit for all those who wanted a way to carry personal protection items (including firearms) in their vehicle without them being seen by the crooks snooping around and looking through the car windows for valuable items.
As an example, you can see it is being installed in a ford f-150 pickup truck. The manufacturer claims it will also work for other brands, including Chevy GMC.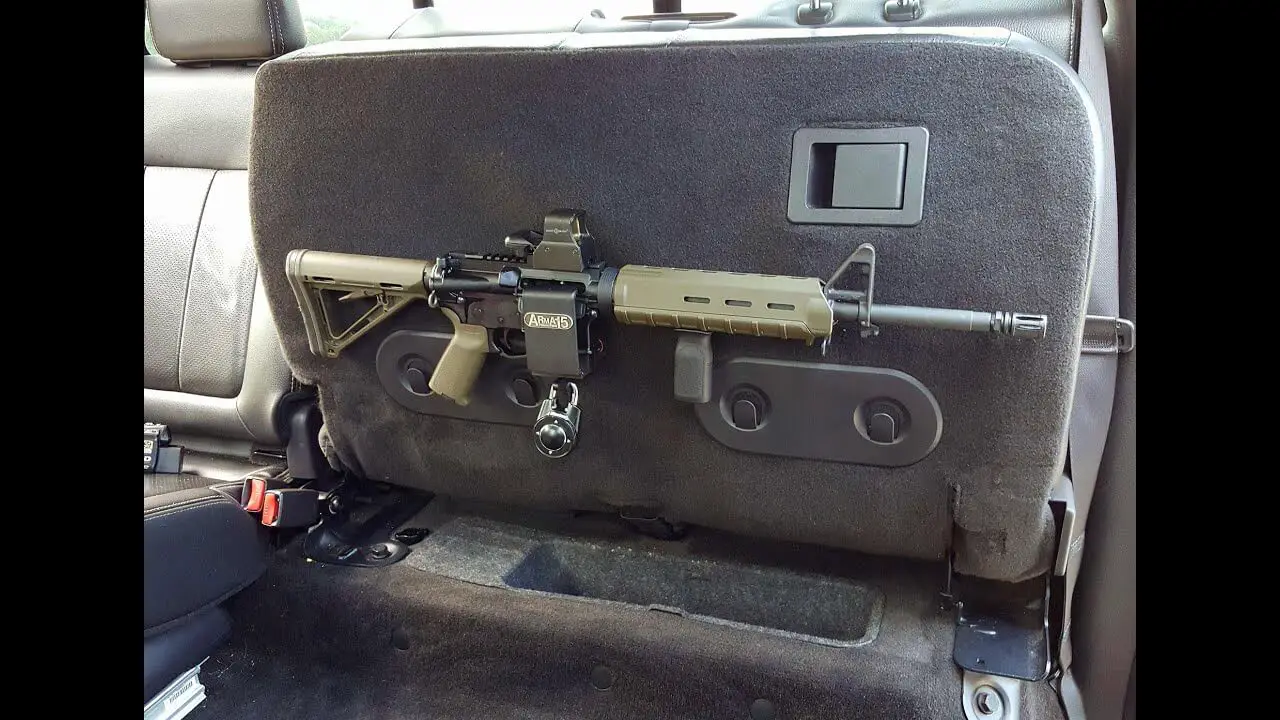 The kit includes everything you need for installation. It can be used both in cars and trucks and it can be mounted on the wall if necessary. The price is about $130.
Lock'er Down Console Safes
Many vehicles have a lot of free space between the front seats.
This safe compartment kit can be placed exactly there. It fits many car models, and it takes less than 10 minutes to install it. The base of the safe is cold rolled sheet steel. The components are drill resistant.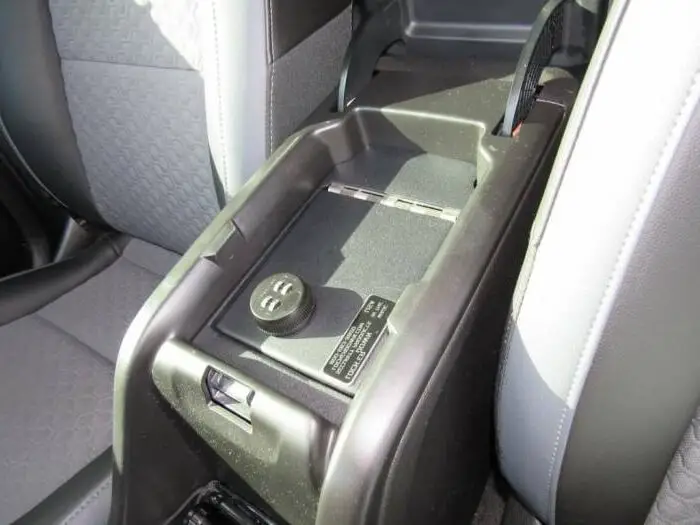 There are several lock options available, including an electronic lock. The safe is designed so that after installing it doesn't interfere with the usual features of the car located nearby, such as the USB ports.
If you want to order it you'll need to specify the car brand model and year and prices start at $300. View Latest Deal!
Hitch Vault
Our top choice is HitchSafe HS7000 Key Vault, Black.
It installs and Uninstalls easily, without any tools required. In order to access your valuables stored in secret car stash, simply release the rubber dust cover that looks as any normal hitch cover. Enter your PIN, and the drawer is automatically released... 
Tuffy Tailgate LockBox
This is another interesting option for jeep drivers, specifically owners of the
2018-2022 wrangler JL models are in luck. This box does not only
allows you to take more luggage, but also comes in handy as a mini table for
outdoor cooking and picnics.
The box measures 3 by 34 by 15 inches and can hold up to 40 pounds. There are two removable trays to store small items, and thanks to Tuffy's pry guard locking system the cargo will stay in place even on off-road trips.
You'll have to shell out $370 for this kit, and there's also a smaller version available for $340.
Chevrolet Secret Compartment
A very cool feature found on many Chevrolet models. Behind the built-in touch screen is a fully fledged glove compartment with a usb port where you can safely leave your device charging without it being noticed by potential thieves looking through the windows.
A nice addition is the possibility to set up a unique access code for the glove compartment. Similar solution exists for the Cadillac Escalade.
Nissan TITAN Truck Bed Storage
This is not a hidden storage system, but it is so useful that we decided to list it here. It was originally designed for the Nissan Titan.
It expands the car's capabilities and will be of interest to builders campers car mechanics and anyone who wants to make their vehicle even more functional.
Thanks to the modernization, the owner gets two versatile side sections. They'll be useful even as ice refrigerators as there are holes for water drainage if necessary.
They can even be removed above them there is the utilitrax system. It simplifies fixation of cargo with belts which is useful when transporting motorcycles and quads. It also includes a power outlet lighting and a folding hard top you can buy the components of the set separately.
For example these side sections are available $1500. in addition, other accessories are available so you can build whatever you want as if it were a lego set.
Jeep Wrangler Locking Storage Vault
A great way to secure your valuables when your jeep top is off.
Note the creators of this storage vault for 90 bucks the buyer gets a 24 by 10 by 4 and a half inch box, that can be installed without drilling or other tricky steps.
The box is key locks and a standard protective mat provides extra stealth. The built-in handles add possibility if the box is no longer needed. In the car it could be quite useful, in the garage, or at home.
It's also versatile and suitable for many jeep wrangler models from 2007 on.
Hiding place behind the back
Why not combine a mini safe for the license plate holder? The designers tested 23
prototypes. The final design is 12 inches wide and 6 inches high, the vault is open via a smartphone app or manually by entering a code.
Various smart options are available, such as one-time codes to access the vault. A
system that tells you whether or not there's a spare key in the safe, and a small key fob for quickly locating a lost key or any other item.
It's powered by either a built-in battery enough for about a year, or by the car's electrical
system. The price starts at $139.
As an Amazon Associate I earn from qualifying purchases.